The ultimate Fridge set (28 pcs)
We deliver all ingredients in refill bags or compostable packaging..**Jar not included
**New Sets will be PREORDER expected delivery 4 weeks end oct. 
SHOP THE LOOK  introducing the Ultimate Fridge Set 28pcs plus bonus chalk pen to label
Elevate Your Fridge Game and Reduce Food Waste!
🌱 Elevate Your Fridge Aesthetic Through popular demand, we've crafted the ultimate fridge set that not only looks the part but also performs like a champ. Say goodbye to the chaos and clutter, and hello to a fridge that's Instagram-worthy!
🥦 Minimise Food Waste in Style With our carefully curated set, you can store your veggies, leftovers, fruits and more with ease. Minimise food waste and maximise freshness effortlessly.
🌟 What's Included
8 Lifetime Jars (850ml) for all your storage needs.
12 Rectangles containers for versatile organiSation.
8 Small Jars for your favorite sauces and condiments.
♻️ Sustainable and Ethical Our jars are not just any jars; they are sustainable and ethically sourced. We believe in responsible living and have designed our jars to last, even in the challenging fridge environment. These are the only jars you'll ever need!
🌿 Thoughtful Design Our jars aren't just pretty faces; they're purpose-driven. Crafted with double-thick glass, bamboo lids (mould-proof), and silicone seals, they guarantee a tight seal to keep your food as fresh as the day you stored it.
🌎 Join the Zero Waste Movement This collection is your passport to a zero-waste fridge, and you'll be proud to show it off. It's not just about organising your fridge; it's about doing your part for the planet by reducing food waste.
📸 Insta-Worthy Fridge Goals Get ready for envy-inducing Instagram shots! Your beautifully organised fridge will be the star of your social media feed.
🍅 Veggie Hacks Looking to make your food last longer? Check out our veggie hacks and more over on our blogs. We're here to help you get the most out of your fresh produce.
Hand wash with warm water before first use.
Glass bottoms can go in the dishwasher, hand wash the bamboo lids.
For caked on food, soak glass bottoms in solution of baking soda and dish soap
Avoid any abrasive cleaners or scrubbers on the bamboo lids
Dry bamboo lids promptly and allow them to dry properly before using them
Whole pantry Jars set are safe for the freezer Glass is safe for oven and microwave
2 x 850ml 9.5cm X 18cm 8 x4 X 400ml 9.5cm X 7.5cm 3 X 370ml 14.5cm X 10.4cm X 4.7cm 3 X 640ml 16.9cm X 12.3cm X 5.3cm 3 X 1040ml 19.6cm X 14.6cm X 6.0cm 3 X 1520ml 22.0cm X 16.4cm X 6.6cm
Worlds1st refill food bag of it's kind, we're made from ocean, beach & landfill plastic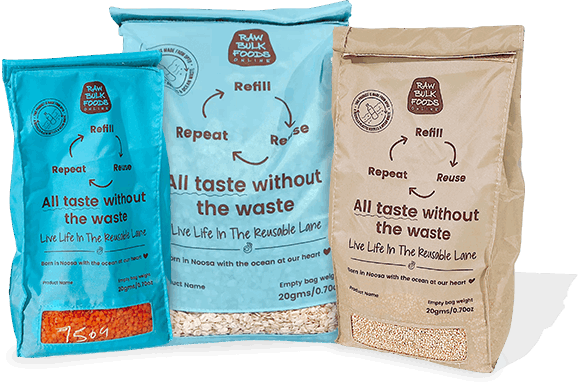 World changing Aussie groceries delivered to your door minus the single use junk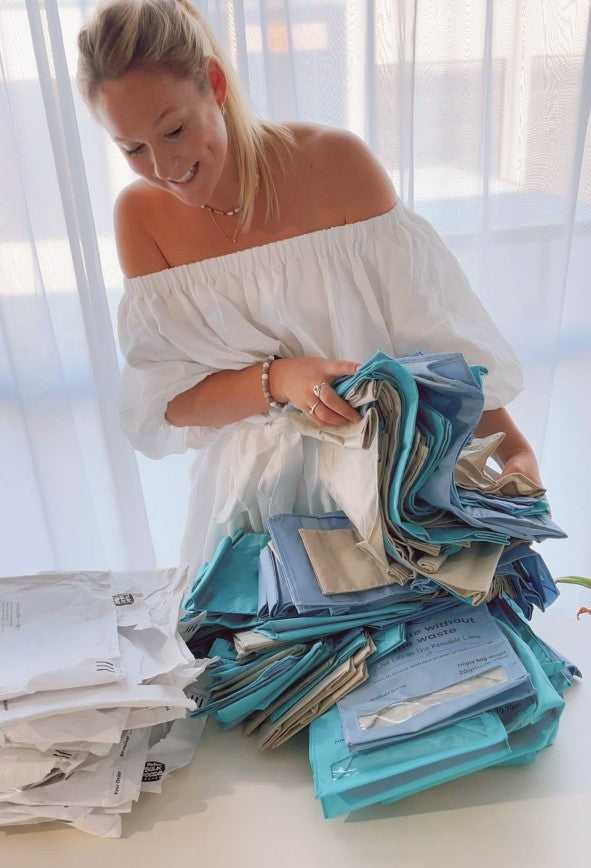 The only solution to
Soft Plastic, closed loop,
we deliver, you return
We clean and reuse over
and over again
Eco-friendly and stylish, our ultimate planet-saving solution in disguise
Learn more about our materials
Sourcing and storing, we source direct from the local farms minus the junk, right here in Australia.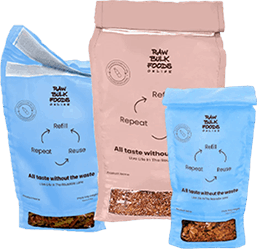 Pretty Refill bags delivered to you made from plants, ocean plastic and recycled bottles.
LIFETIME jars made sustainable. shipped plastic free. Designed to last.
When you have finished roll up our super-duper bags and send them back, we wash & reuse. winning!