Sticky Date pudding in a BAG
We deliver all ingredients in refill bags or compostable packaging..**Jar not included
Get ready for a flavor explosion that will make your taste buds do the happy dance! RBF's Sticky Date Pudding in a Lifetime Jar is the dessert you never knew you needed.
Just add 3 Ingredients and taste the difference - it's like a hug from your grandma, in a jar! And the best part? You can enjoy this guilty pleasure while saving the planet, one spoonful at a time!
Makes 6 individuals ones
Just add:
190ml cup of boiling water 
1/2 cup of egg or egg replacement 
1/3 cup of vegetable oil (OPTIONAL) we recommend :-) 
Method: Part 1 pudding 
Preheat the oven to 170 degrees celsius.

Hold back 3 Dates & 1 Tbsp of the mix from jar
Remove pits from dates & add remaining dates to 120ml of boiling water 
Blend in a high speed blender till smooth 

Add Egg replacement or egg & oil to mixture 

Blend again for another 2 minutes 

Add Jar mix and blend for further 3 minutes or till smooth 

Place in a greased 6 space muffin tin and cook for 25 minutes 
Sauce 
Remove pits of

 held back dates & blend together with held back mixture add to blender with 70ml of boiling water (Add less water for a more gooey sauce and a little more water for a runny sauce) 
Blend on high speed till gooey and viola we have the sauce :-) 
Wholewheat flour, brown sugar, dates, tapioca, baking powder, baking soda, salt, coconut milk
12 months from purchase date
Next level delicious
Amazing texture and an explosion of flavour. I'm so pleased these are back on the site for ordering.
Have ordered 3 more!
These are incredible I've always been a sucker for a great sticky date pudding. These are next level and they are so EASY! Have now made these for all the family and they literally fight over them. Cooked exactly to the recipe(with the oil as recommended), they are so light and filling.
I've ordered another 3. Please never run out of these!!
Worlds1st refill food bag of it's kind, we're made from ocean, beach & landfill plastic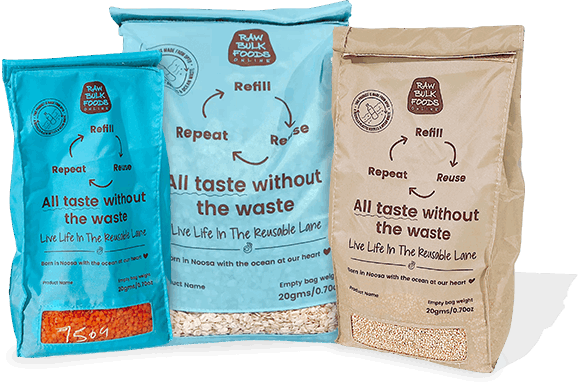 World changing Aussie groceries delivered to your door minus the single use junk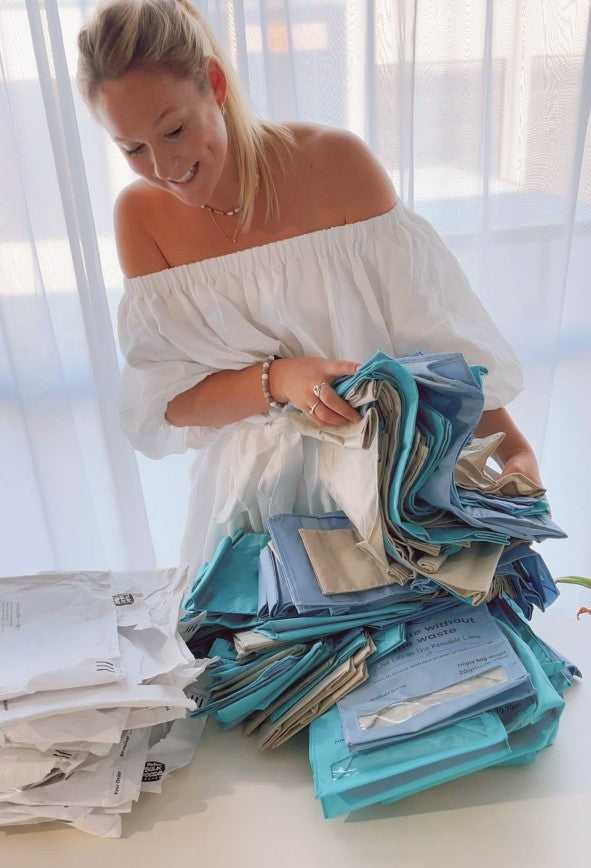 The only solution to
Soft Plastic, closed loop,
we deliver, you return
We clean and reuse over
and over again
Eco-friendly and stylish, our ultimate planet-saving solution in disguise
Learn more about our materials
Sourcing and storing, we source direct from the local farms minus the junk, right here in Australia.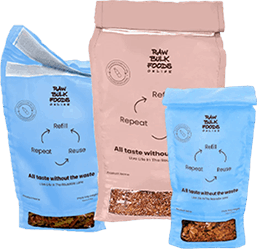 Pretty Refill bags delivered to you made from plants, ocean plastic and recycled bottles.
LIFETIME jars made sustainable. shipped plastic free. Designed to last.
When you have finished roll up our super-duper bags and send them back, we wash & reuse. winning!