Dahl Curry & Rice "In a bag"
We deliver all ingredients in refill bags or compostable packaging..**Jar not included
voilaIntroducing our "In a Bag Dahl Curry" – a hassle-free, wholesome dinner in just 20 minutes! 🍛🌿 add a few simple fresh ingredients and voila
Create a crowd-pleasing meal for four with ease. Simply add a few fresh ingredients to our perfectly measured spice blend and lentil mix, and experience the aromatic flavors of our delicious Dahl Curry.
What's Included in a Bag Dahl Curry?
- Dahl Premix and all the 13 spices 
- White Basmati Rice 
✅ Wholesome and Nutritious: Packed with high-quality lentils and a carefully crafted blend of aromatic spices, our Dahl Curry offers a nutritious and satisfying meal.
♻️ Zero Waste: Our kit is thoughtfully portioned for four servings, minimising unnecessary food waste and of course plastic waste utilising our return 2 refill bags.
⏱️ The RBF Method. Our simple instructions make it easy to prepare the Dahl Curry – no guesswork, just great taste in no time.
Indulge in the convenience and flavor of our In a Bag Dahl Curry. Order now and delight in a wholesome dinner that's ready in a flash! 🌱🌟
Just add: 1 brown onion, diced, 2 garlic cloves, diced, 2 Tbsp olive oil, 190g chopped tomatoes, 390ml vegetable stock, 220ml coconut or cashew cream, Salt and pepper 
Method:
Cook the rice in a small saucepan of boiling water for 10-15 minutes or until the rice is at your preferred texture. Set aside to drain while you cook the dahl.

Heat up a frying pan on medium heat.

Add the olive oil, onions and garlic and saute until they soften.

Add the contents from "bag 2" and fry for 1 minute or until the spices become fragrant.

Pour in the vegetable stock and chopped tomatoes and simmer covered until the lentils are cooked and the liquid has reduced, it should take approximately 15 minutes (add more water if needed).

Pour in the coconut or cashew cream and continue to simmer until it is at your desired consistency.

Add salt and pepper to taste before serving on a bed of rice.
White basmati rice, red lentils, ginger powder, garam masala, turmeric, ground coriander, ground cumin, sweet paprika
Eat within 2 days of making the meal
Easy delicious Dahl
So easy to make, loved the flavour - yummy
Amazing Dahl!
This Dahl was so delicious, so easy to make and all our kids loved it! Such a great meal to make when your pantry and fridge is empty and you've come home late from work and want to make a quick nutritious meal.
Worlds1st refill food bag of it's kind, we're made from ocean, beach & landfill plastic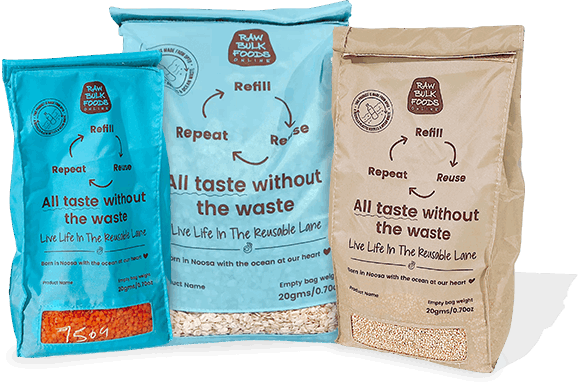 World changing Aussie groceries delivered to your door minus the single use junk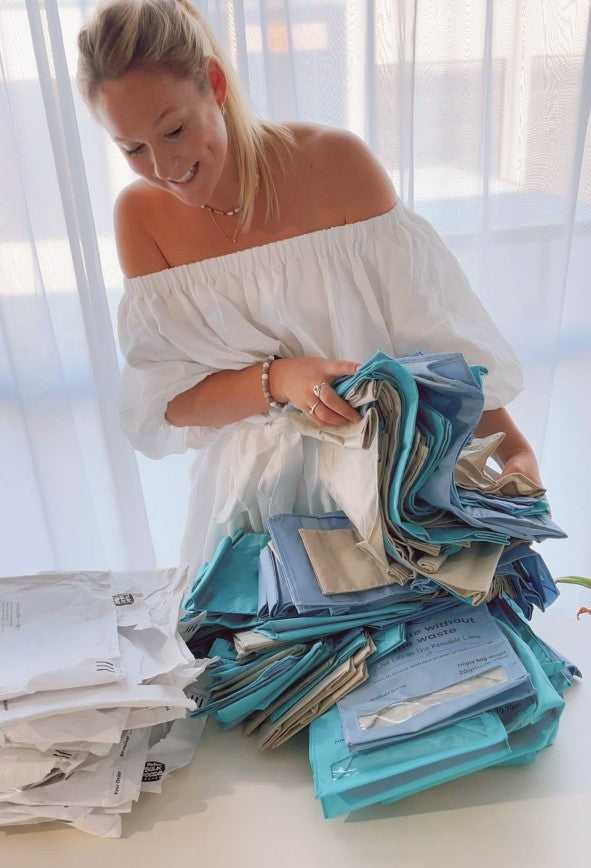 The only solution to
Soft Plastic, closed loop,
we deliver, you return
We clean and reuse over
and over again
Eco-friendly and stylish, our ultimate planet-saving solution in disguise
Learn more about our materials
Sourcing and storing, we source direct from the local farms minus the junk, right here in Australia.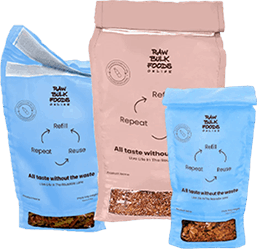 Pretty Refill bags delivered to you made from plants, ocean plastic and recycled bottles.
LIFETIME jars made sustainable. shipped plastic free. Designed to last.
When you have finished roll up our super-duper bags and send them back, we wash & reuse. winning!