GF Soft White bread "in a bag" (500g)
We deliver all ingredients in refill bags or compostable packaging..**Jar not included
Say goodbye to single-use packaging and hello to sustainable baking with our gluten-free white bread mix.
Simply add a few simple ingredients and you're on your way to a delicious, wholesome loaf. Our reusable bag ensures that gluten-free baking no longer means waste.
Just add:
7g instant yeast 
450ml - 475ml of water 
25ml of Oil 
Makes a full loaf
Soft and light white GF bread, stays fresh 2 days good to toast on days 3 and 4.
Mix makes roughly 750-800 gram loaf . Just a few ingredients see below
Method:
Add wet ingredients to the bowl along with in bag ingredients 
Mix on low speed for 1 minute or by hand 
Mix by hand and need for 3-4 minutes to well combined (Make sure you do not over do it and make it sticky) 
(For best result)Proof dough in a warm spot covered until almost double in size at 85% relative humidity until loaf is nearing the top of the tin. idea to put in small container in the oven with hot water in it to create the humid environment.  If you can,  set your oven to 30 degC and proof your loaf in there with the humidity.  If you don't have a 30 deg C setting then put the loaf in a warm humid place, or even in your oven with the light on - no temp! - Take the bread out of the oven prior to heating up to bake.
preheat over to 210 degrees 
Grease tin slightly with oil and deposit mixture in tin 
Bake for 35- 40 minutes 
Pull out of the over and rest for 10 minutes 
Enjoy you are a master chef 
Rice Flour, Soy Flour, Starch, Yeast, Sugar, Iodised Salt, Psyllium, Vegetable oil
NUTRITION INFORMATION

Serving size: 78g

Average Quantity

Per Serving

Average Quantity

Per 100 g/100ml

Energy

Protein

846 kJ

0.3 g

1080 kJ

3.8 g

Fat, total

– saturated

Carbohydrates

– sugars

4.3 g

<1 g

35.7 g

4.6 g

5.5 g

<1 g

45.8 g

5.9 g

Sodium

272 mg

349 mg

Dietary Fiber

3.7 g

4.7 g
12 months from purchase date
Bread in a bag for the win!
I am pretty sceptical of GF bread recipes, but this one was absolutely amazing, and worked so easy by chucking it in the bread maker then adding all the extras on top of it and away she went - probably turned out as a larger loaf by doing it that way too! :D
Best GF bread to date!
This gluten free bread is amazing!! I only add 400ml of water but it is the closet GF bread I have found to normal bread! The crust on it is amazing 😁
Delicious!
I put this in my bread maker. I was a bit wary at the time but it turned out so well! Will definitely be buying again.
Worlds1st refill food bag of it's kind, we're made from ocean, beach & landfill plastic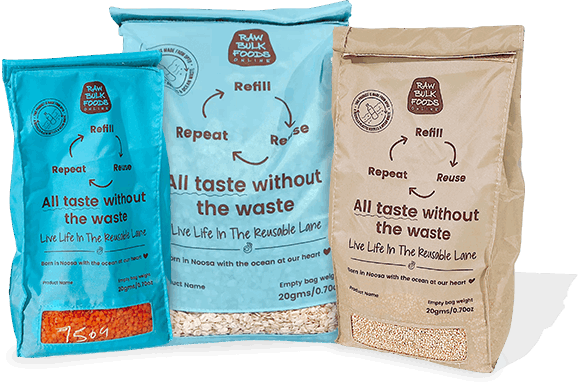 World changing Aussie groceries delivered to your door minus the single use junk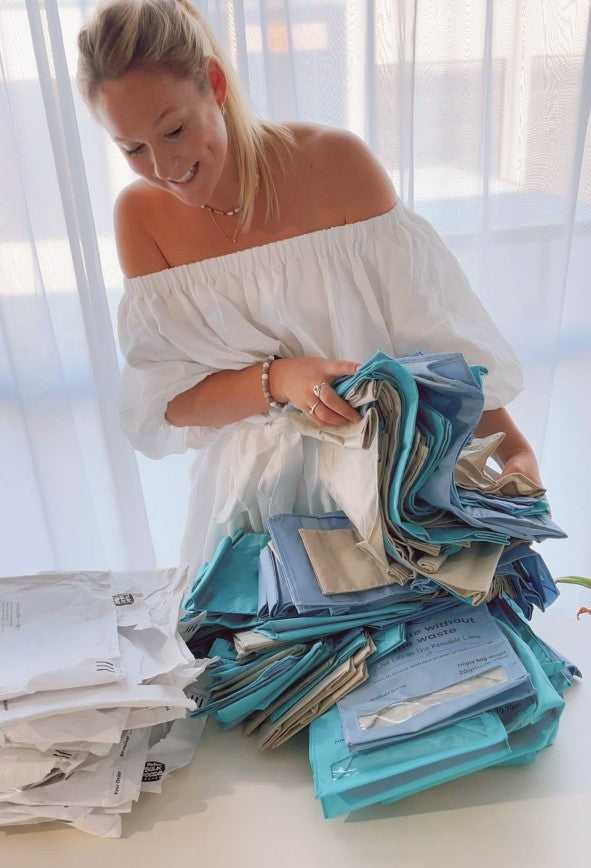 The only solution to
Soft Plastic, closed loop,
we deliver, you return
We clean and reuse over
and over again
Eco-friendly and stylish, our ultimate planet-saving solution in disguise
Learn more about our materials
Sourcing and storing, we source direct from the local farms minus the junk, right here in Australia.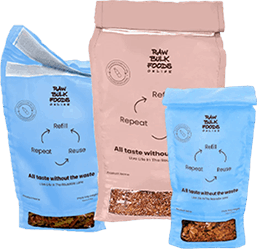 Pretty Refill bags delivered to you made from plants, ocean plastic and recycled bottles.
LIFETIME jars made sustainable. shipped plastic free. Designed to last.
When you have finished roll up our super-duper bags and send them back, we wash & reuse. winning!