White bread "in a bag"
We deliver all ingredients in refill bags or compostable packaging..**Jar not included
Always wanted to make your own bread? We just made it easy
Say goodbye to single-use packaging and hello to sustainable baking with our super easy white bread mix.
Simply add a few simple ingredients and you're on your way to a delicious, wholesome loaf. Our reusable bag ensures that baking no longer means waste.
Just add:
45g oil
300ml water
Method:
Empty the contents of the Bread Bag Mix into a large bowl.

Pour in the "just add" ingredients and use a spoon or your hands to combine.

Dust some extra flour onto a bench and knead the dough for 5 - 10 minutes.

Place dough back into the bowl and leave to sit for an hour. It will double in size.

Knock back the dough (punch the air out and pull the dough in on itself) then gently mould the dough into a ball. Place dough onto a lined baking tray then leave for another hour to prove some more. 

Preheat the oven to 200 degrees celsius.

Dust the loaf with some extra flour and cut a cross about 6 cm long into the top of the loaf with a sharp knife.

Bake for 25-30 mins until golden brown and the loaf sounds hollow when tapped underneath. Cool on a wire rack.
Bakers flour, salt, yeast
NUTRITION INFORMATION

Serving size: 78g

Average Quantity

Per Serving

Average Quantity

Per 100 g/100ml

Energy

Protein

846 kJ

0.3 g

1080 kJ

3.8 g

Fat, total

– saturated

Carbohydrates

– sugars

4.3 g

<1 g

35.7 g

4.6 g

5.5 g

<1 g

45.8 g

5.9 g

Sodium

272 mg

349 mg

Dietary Fiber

3.7 g

4.7 g
12 months from purchase date
Soft and fluffy
Very easy to easy, turned out delicious
I made bread!
What a super easy mix this is to make. I've never made bread before - unless you count throwing ingredients into a bread maker and pushing the go button - so I was a little scare to how this would turn out. I gotta say I am pretty impressed and a little chuffed - It was yummy fresh with a bit of butter and today it was even better toasted with a slap of butter. My partner said 'it kinda reminds me of soughdough the way it toasts" I ordered two bags to can't wait to do the other and turn it to a cobb loaf (with dip).
So Easy and Delicious!!!
The "White Bread in a Bag" was just so easy to make and tasted great warm with a cheeky bit of butter and made the best toast for breakfast the next morning!!
Worlds1st refill food bag of it's kind, we're made from ocean, beach & landfill plastic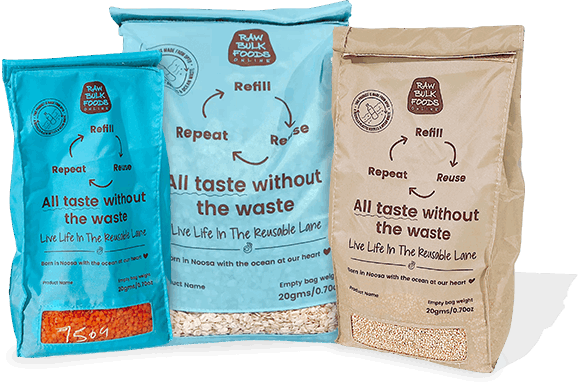 World changing Aussie groceries delivered to your door minus the single use junk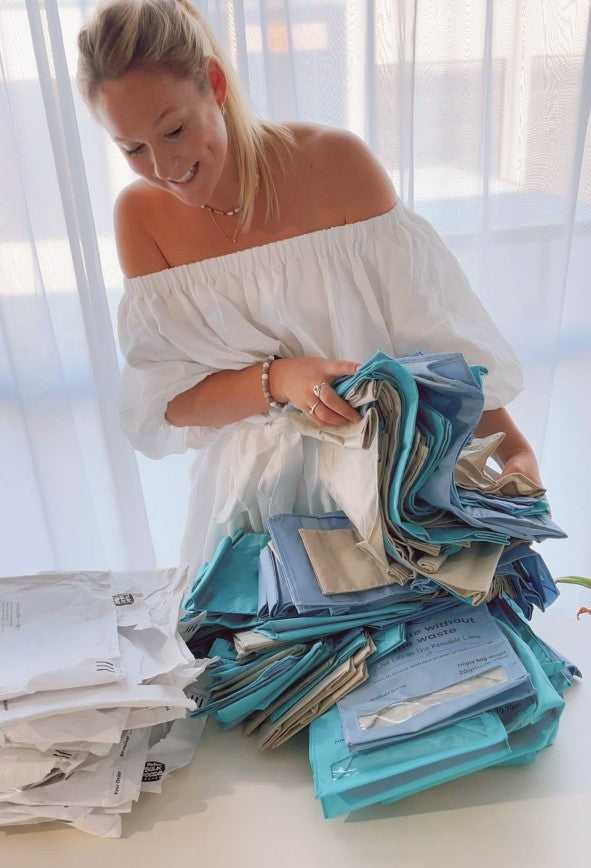 The only solution to
Soft Plastic, closed loop,
we deliver, you return
We clean and reuse over
and over again
Eco-friendly and stylish, our ultimate planet-saving solution in disguise
Learn more about our materials
Sourcing and storing, we source direct from the local farms minus the junk, right here in Australia.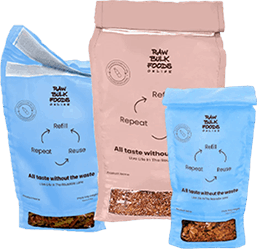 Pretty Refill bags delivered to you made from plants, ocean plastic and recycled bottles.
LIFETIME jars made sustainable. shipped plastic free. Designed to last.
When you have finished roll up our super-duper bags and send them back, we wash & reuse. winning!